I'm hosting my first swap on Swap-bot. It's called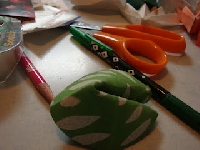 Here is the swap description:
Hello swappers! Just a heads up, this is my first swap that I'm hosting so bear with me, but rest assured, all my attention is here and I respond to everything!
This is a fun swap for spreading the love around the world! Everyone will have 1 partner and you will make (a minimum of )10 PAPER fortune cookies for him or her. Inside the PAPER fortune cookies, you will place inspirational messages, quotes, verses, or pick-me-ups! You can choose to either write the message on the inside of the PAPER fortune cookie or insert a slip of paper like normal fortune cookies that can also be made of PAPER.
The fortune cookie can be made of plain or fun paper that you have! They can be made of soft paper or textured craft paper (just be aware that these will be harder to fold). They can also come in different sizes. When making the outline for the cookie, I think it's best to use a cd, but you can use any circular object you have to trace an outline.
Did I mention that these are paper fortune cookies? Just want to avoid confusion! That's all! :D
Please, please, please, send the fortune cookies in BOXES! If you send them in envelopes, they most likely will be flattened! The boxes don't have to be big, just big enough for 10 PAPER fortune cookies. Don't forget to include the name of the swap in the box so your partner can rate you!
I am making this an international swap because the packages should be relatively lightweight and therefore, not too expensive to ship!
Newbies are welcome with filled out profiles. No 1s or 3s without a decent explanation of the situation (PM me). I will be checking profiles and banning flakers as I see fit. If anyone is flaked on, I will angel. Message me or comment if you have any questions or issues!
Have fun with this one and be creative! :)
I've got a reasonable amount of swappers so far, but a LOT of watchers! So yall better join! :)